Data Privacy & Healthcare Cybersecurity: Addressing the Growing Challenge for Healthcare Organizations
By Myron Wallace, Sr. Director of CCaaS Products
Data privacy and security concerns are top of mind for healthcare leaders, and healthcare organizations face a growing challenge. Put simply, the reliance on digital technology to store and process protected healthcare information (PHI) is opening the door to many data privacy and security concerns. The reality is that protecting assets and data while ensuring compliance with industry regulations is no easy feat. 
Protecting Patient Data 
Healthcare data privacy focuses on ensuring PHI is properly handled and safeguarded, while security focuses on preventing data breaches. Together these processes protect sensitive patient health information and keep it from falling into the wrong hands. This is important as an estimated 30% of the world's data is generated in healthcare, which is expected to reach 36% by 2025. 
Healthcare workers have an ethical and legal obligation to keep patient information secure, yet many still rely on unsecured methods such as SMS text messages, fax, and email for communication about patients. This means that PHI is not properly secured and unauthorized individuals can access this sensitive data. Consequently, HIPPA violations can easily occur from such practices – resulting in stiff fines for healthcare organizations.  
Maintaining Patient Trust 
Patient confidentiality is a necessity in building trust between patients and medical professionals. Without the right privacy and security measures in place, a lack of trust can lead to infrequent and lower-quality health visits. With the evolution of digital accessibility in healthcare, it's no surprise that many patients are concerned about how their information is kept private and secure. A recent survey by the American Medical Association (AMA) shows that more than 92% of patients believe privacy is a right. Unfortunately, nearly 75% remain concerned about how the privacy of their health data is protected – this is a significant number of patients.  
When healthcare organizations grasp their entire digital landscape and implement technology-enabled solutions, they should ensure their investments are built to protect against security and privacy threats. Healthcare organizations owe it to their patients to prioritize the security of PHI and adopt new technologies that can help ensure confidential conversations stay just that: confidential. 
It's important for healthcare organizations to provide secure, HIPAA-compliant communication tools for their staff to use. This will help ensure that patient information stays confidential and secure and protects healthcare organizations from costly HIPAA violations. 
Implementing a Secure Communication Solution to Mitigate Risk  
Aging legacy IT systems can lead to gaps in security, and loopholes in privacy, which can lead to costly security and privacy problems that are difficult to predict or remedy. Healthcare organizations must consider implementing a, secure HIPAA-compliant, clinical communication and collaboration (CC&C) platform like TigerConnect to address these challenges, as well as reap associated benefits such as improved efficiency in operations, increased patient satisfaction, greater patient engagement, and the avoidance of costly fines. With the right communication solution in place, healthcare organizations can ensure their data remains secure while providing better care for their patients. It's clear that investing in a reliable CC&C platform is essential in order to meet future healthcare needs. 
Ultimately, by ensuring a secure platform for providers and patients to communicate, healthcare organizations will ensure better protection for their patient's sensitive data and ensure regulatory compliance. While it's known that a patient's data and security are vital for running a successful healthcare organization, what's most important is maintaining patient trust and loyalty. 
Secure Messaging Enabled by TigerConnect 
Data privacy and security should always be top of mind for healthcare organizations – but it doesn't have to be complicated or overwhelming thanks to the HIPAA-compliant, cloud-enabled, TigerConnect Clinical Collaboration Platform. Investing in reliable tools and educating staff on proper protocols is essential for any organization looking out for its patients' best interests when it comes to protecting their health data.  
With its ability to be used on a smartphone, tablet, or desktop, users can conveniently communicate with colleagues at the point of care while also keeping patient information secure and compliant with industry regulations. The platform offers solutions like group messaging, secure attachments, and end-to-end secure texting that maximizes collaboration efforts without sacrificing the security of sensitive data. Whether exchanging sensitive patient information, or just collaborating on an administrative task, secure messaging capabilities from TigerConnect can help you stay connected without compromising patient privacy. Download the data sheet to learn more about how TigerConnect can keep your organization's communications secure.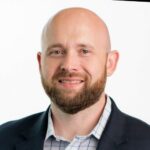 Myron Wallace is the Sr. Director of CCaaS Products at TigerConnect. Myron drives the innovation of next-generation collaboration products for healthcare clients while continually optimizing product development and implementation practices and processes. In addition, Myron has raised customer satisfaction with new TigerConnect products, exemplary product engineering, and accelerated customer implementations.